About The Reverend Absalom Jones...
"Those things which ye have both learned, and received, and heard, are seen in me, do and the peace of God shall be with you" – Philippians 4:19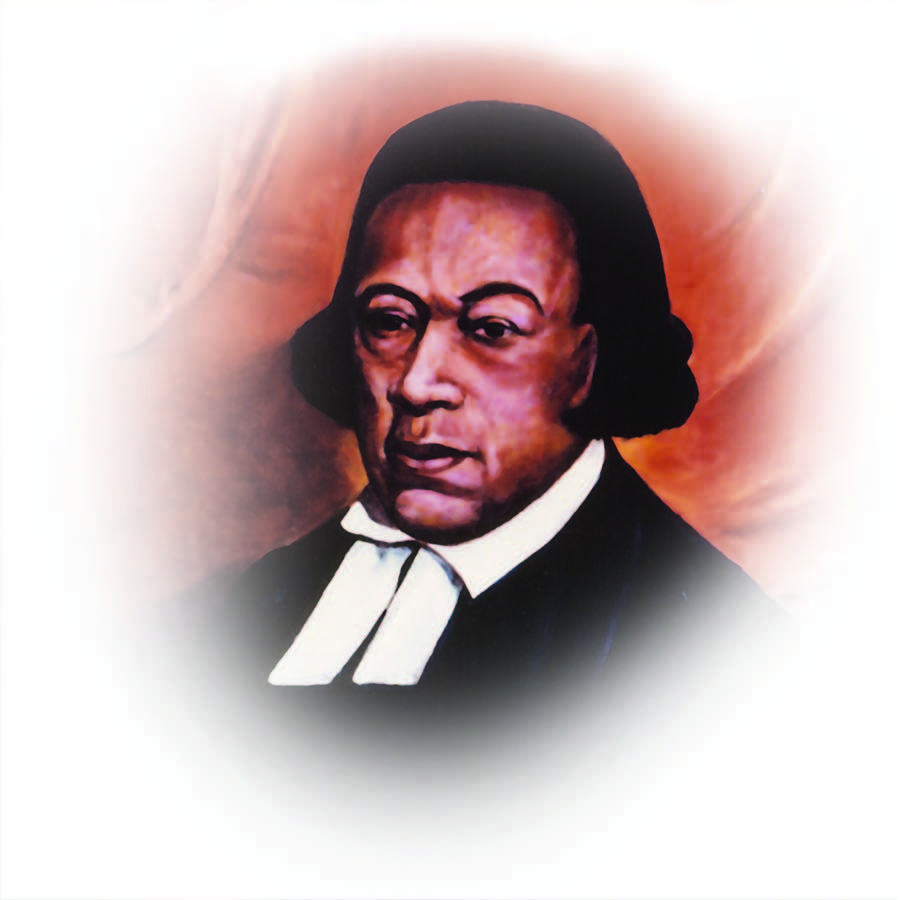 Founder of The African Episcopal Church of St. Thomas 1746-1818

The life and legacy of The Reverend Absalom Jones is a testament to the resilience of the human spirit, his faith, and his commitment to the causes of freedom, justice and self-determination.

Absalom Jones was born into slavery in Sussex County, Delaware on November 6, 1746. During the 72 years of his life, he grew to become one of the foremost leaders among persons of African descent during the post-revolutionary period. In his younger years in Delaware, Absalom sought help to learn to read. When he was 16, his owner Benjamin Wynkoop brought him to Philadelphia where he served as a clerk and handyman in a retail store. He was able to work for himself in the evenings and keep his earnings. He also briefly attended a school run by the Quakers where he learned mathematics and handwriting. In 1770, he married Mary Thomas and purchased her freedom. It was until 1784 that he obtained his own freedom through manumission. He also owned several properties.

During this period, he met Richard Allen, who became a life-long friend. In 1787 they organized the Free African Society as a social, political and humanitarian organization helping widows and orphans and assisting in sick relief and burial expenses. Jones and Allen were also lay preachers at St. George's Methodist Episcopal Church, Philadelphia, PA where their evangelistic efforts met with great success and their congregation multiplied ten-fold. As a result, racial tensions flared and ultimately they led an historic walk out from St. George's.

In 1792, under the dual leadership of Absalom Jones and Richard Allen, "The African Church" was organized as a direct outgrowth of the Free African Society. Both Jones and Allen wished to affiliate with the Methodists, but the majority of the congregation favored the Episcopal Church. Richard Allen withdrew with a part of the congregation to found Bethel Church (later, Mother Bethel African Methodist Episcopal Church). The African Church became The African Episcopal Church of St. Thomas with Absalom Jones as its Lay Reader and Deacon. In 1802, Jones was ordained by Bishop William White as the first African American Episcopal Priest.

During the severe yellow fever epidemic of 1793, Absalom Jones and Richard Allen mobilized the Black community to care for the afflicted. In 1797 and 1799 Absalom Jones, with other free Africans, presented tenable petitions to Congress and to the President of the United States opposing slavery. Two schools and supportive services for the Black community developed under his leadership.

In 1797, when the first African Masonic Lodge of Philadelphia was warranted, Absalom Jones was installed as First Worshipful Master and in 1815 he was elected the First Grand Master of the First African Grand Lodge of Pennsylvania.